Thursday, March 9, 2017 (Snow Date: March 16, 2017)
The Field House at Pennsylvania College of Technology, Williamsport, PA
Middle School Students in Grades 4-5 and Grades 6-8
2017 Team Registration is available here.
The 2017 Challenge
Your team has been hired to create a new amusement park.  However, this new amusement park is making "green" a priority.  The owners are working to make the world healthier, cleaner and safer and are creating a fun family park that will inspire others to be environmentally friendly.  You will need to create a ride for this new park.  (This does not necessarily mean a roller coaster ride, although teams may choose to do so.) Your ride must represent the environmentally friendly approach that the owners are requiring.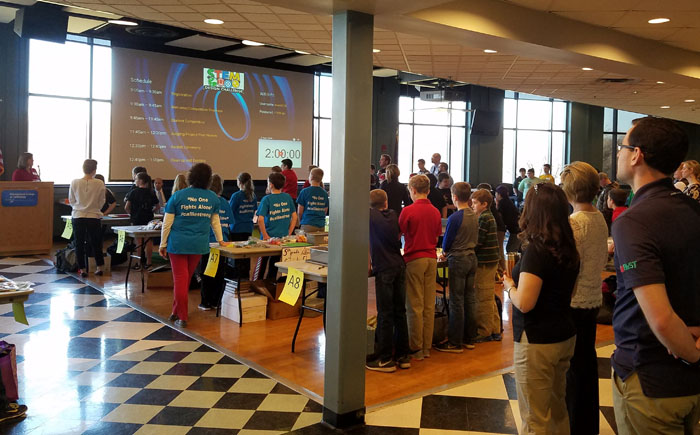 Additional Middle School Challenge
Teams competing in the Grades 6-8 division will also be asked to present a budget of their project. Each K'Nex piece will be given a price and teams will create their budget using the MS Challenge Inventory. Middle school teams will turn in an inventory of pieces used and an overall cost of their project.
Rules
A team of 2-4 students will work together on the project.
Each project must use at least 1 motor.
Teams may use up to 1400 pieces. Any pieces, as long as they are K'Nex, may be used. (

Amusement Park kits are not allowed

.)
Schools must bring their K'Nex kits on the day of the competition.
Students will have 2 hours to put together their project at the competition.
No pieces may be brought to the competition already joined.
Each team will need to bring a journal and a blueprint to the competition.
Each team will prepare a presentation (max. 2 minutes) on their model and how they answered the challenge. Middle school students will also present their inventory.
Judging Criteria
Creativity
Teamwork
Challenge Success
Design
Presentation (demonstrate challenge, incorporation of blueprints & journal, 2-minute delivery, basic presentation skills, answering questions from judges)
Awards
Awards will be given to the top three teams in grades 4-5 and grades 6-8.
Top team in each division at regional competition will advance to the state competition on May 19, 2017 in Harrisburg.
Registration Information for the BLaST IU17 Regional Challenge
Each school

district

may register up to two teams for the 4th -5th grade level and/or two teams for the 6th-8th grade level. (Districts are invited to conduct their own local challenge to determine which teams will move on to the regional challenge.)
Each teacher/advisor is permitted to register one additional chaperone per team.
Registration must be completed separately for each team entered in the Challenge.
2017 Team Registration is available here.
K'Nex Kits
The 2017 kit is the same kit that was used in 2016. If your district participated last year, please plan on using the same kit.
Any combination of pieces may be used, as long as they are genuine K'Nex, at least one motor is included, and the number of pieces does not exceed 1,400.

Amusement Park kits are not allowed

.
All teams must arrive with their own K'Nex kit/pieces—we will not have extras available on the day of the competition.
Additional STEM Design Challenge Kits may be purchased and are available exclusively through Fisher Science Education. The kits contain a diverse assortment of almost 1,400 pieces and one motor. These kits are identical to the complimentary kits. The part number is S14146 and list price is $50.00 each. Kits can be purchased while supplies last by calling Customer Service at 1-800-955-1177 or by purchasing through the website.
Event Components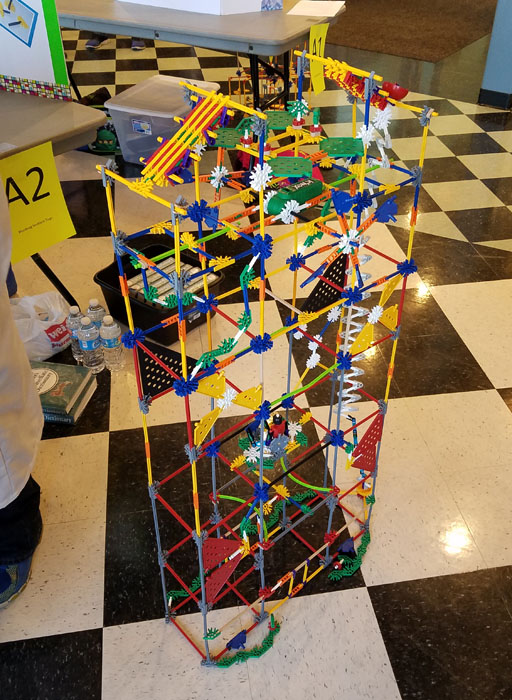 Project
Teams may include a backdrop or artwork but judges will not consider this in their scoring.
Must use at least one motor.
Cannot exceed 1,400 pieces. 
Journal/Narrative
Describe the process the team used to come up with a solution.
What roles did each member have while coming up with the solution?
What types of issues arose while working on the project?
Did creating a blueprint help with the creation of your model?
Did you use any other resources or models to help your team come up with a solution?
Blueprints
Blueprints may be a photo, drawing, CAD, etc. Students may present on a tablet/laptop but judges do not award additional points for use of technology.
Presentation
Each presentation will be two minutes or less.
Students may use a tablet/laptop but will not be awarded any additional points.
Middle School students must also present their project budget.
Additional Details
Tentative Schedule for the Day
9:00am – 9:30am Registration
9:30am – 9:45am Welcome/Competition Overview
9:45am – 11:45am Student Competition
11:45am – 12:30pm Judging/Project Peer Review
12:30pm – 12:45pm Awards Ceremony
12:45pm – 1:00pm Clean up and Dismiss
There is no set lunch time built into the schedule. Students, teachers, and chaperones are invited to pack a lunch and eat when time permits.
Room Setup
Each team will have the use of one assigned 6-foot rectangular table; separate seating areas within the room will be available for any downtime.
Guests
Although we'd love to invite all parents/families to attend, space limitations prevent it.
Media Clearances
We'd like to take pictures of the event and promote this with local media. Each student must complete a signed Photographic Release Form.
Scoring Rubric
Teams may use this rubric of the judging criteria while preparing their projects.
Parking
Lots are depicted on the PCT Campus Map. Buses and vans will park in E8 and R2 lots. All other vehicles are welcome to park in the C4 and C6 lots.
Contact Deb Wescott with any questions.