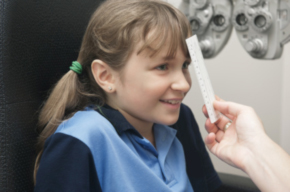 Medical Personnel
Ophthalmologist: a medical doctor specializing in treatment of eye disease. They diagnosis eye conditions, do vision testing, prescribe eyewear and do surgical eye procedures.
Optometrist:   One who examines the eyes for diseases and prescribes eye wear. Will refer to an ophthalmologist for further testing and other medical procedures.
Optician: able to make lenses/contacts to the doctor's specifications.
Educational Personnel
Teachers of the Visually Impaired (TVI) can provide the following services:
Direct Instruction to Students with Visual Impairments
Consult Services to School Personnel and Related Service Providers
Perform Functional Vision and Reading Medium Assessments
Recommend Instructional and Environmental Adaptations
Certified Orientation and Mobility Specialists (COMS) offer the following services:
Consult with parents, community leaders, and school personnel about the student's ability to move safely in the environment and adaptations that are necessary to help ensure the child's safety.
Provide direct instruction to help a student to learn to independently move safely and effectively in their environment. This includes teaching them orientation skills to understand one's place in a given environment.
Recommend the mobility tool suited for the student. These tools can include a white cane, an AMD or a guide dog.
Help the student become a confident traveler.
Certified Vision Rehabilitation Therapist (CVRT)
Instruct persons with vision impairments in the use of compensatory skills and assistive technology.
Help make environments that are safe and effective in meeting the person's need, and guiding parents in creating a safe environment for their children
Assist in career development and work related skills.
Certified Low Vision Therapists (CLVT)
The CVLT works under the direction of an optometrist/ophthalmologist.
Performs functional vision evaluation instruments and client interviews to assess literary skills, writing, social skills.
Assesses needs for assistive technology and compensatory.
Due to the fact that those with more severe impairment may experience difficulties in motor activities other personnel may be involved in their education plan. These personnel can include Physical Therapist, Occupational Therapist and an Adaptive Physical Education Teacher.