Eighth-grade students from eight local school districts created videos about local manufacturing companies to submit entries for the "What's So Cool About Manufacturing?" Student Video Contest, and an awards reception was held at the Trade and Transit Centre II to highlight the videos.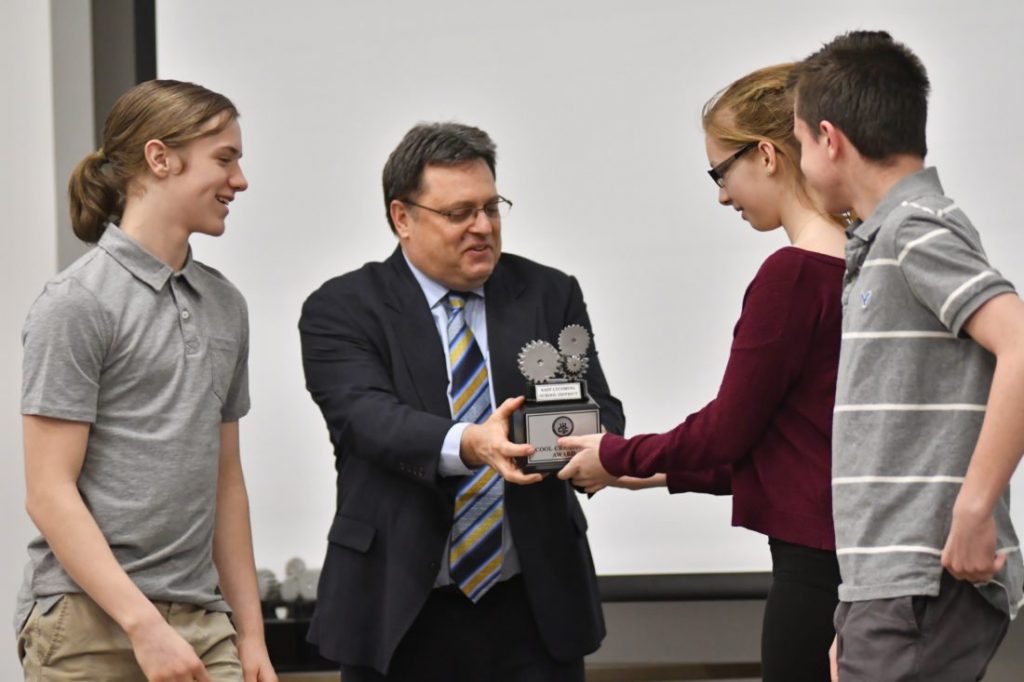 The participating students toured local manufacturing facilities, and their goal was to create a documentary video about the businesses.
They interviewed employees, filmed at the facilities, narrated videos with voiceovers, used green screens, added special effects, used scene transitions
and did everything else involved with the production of their videos.
"This reception is a celebration of a first-year project here in our community that's focusing on introducing younger students … to the possibilities of manufacturing careers here in our region," said Jason Fink, Williamsport/Lycoming Chamber of Commerce executive vice president. "We were excited about this program because unlike others, it focuses earlier in the formative years on the students here in our local schools toward rewarding, family-sustaining jobs in the manufacturing sector."
For several decades, Fink said, students have been encouraged to get degrees for high-paying, white-collar jobs in an office setting.
"Meanwhile, manufacturing has been looked down upon for dirty … low-paying jobs," he said. "Today's manufacturers are rewarding careers that offer a variety of challenges with good, family-sustaining wages."
Many companies are dealing with retiring employees and need a new labor force to keep their businesses operational, he said.
"It's cool that people came here and supported the project … It's important to get yourself out of the classroom, get yourself into the community," said Kris Hendrickson, director and producer of WVIA. "You have no idea how important that's going to be in the years ahead."
During the ceremony, four schools were acknowledged for their standout performances and received awards.
The Best Videography Award went to Montgomery Area School District, which visited M-B Cos. in Montgomery.
East Lycoming School District won the Cool Creativity Award for its video on Ralph S. Alberts Co. in Montoursville.
The People's Choice Award had an online poll that received over 24,000 votes in a 72-hour period. The winner chosen was Sullivan County School District for its video about Dwight Lewis Lumber in Hillsgrove.
The Best Overall Award went to Montoursville Area School District, which visited Savoy Contract Furniture in Montoursville.
Additionally, four other schools participated: Williamsport Area School District visited Overhead Door Corp. in Williamsport; St. John Neumann Regional Academy visited M&M Sheet Metal in Williamsport; Jersey Shore Area School District visited PMF Industries in Williamsport; and Compass Academy visited Wirerope Works in Williamsport.
"This was very exciting for the kids. It was a lot of work. They spent every study period for about three months working on the video, so they spent a lot of time together," said Jennifer Breneisen, the Montoursville Area School District's adviser. "I think they developed a lot of great friendships."
She said she was "super proud" of the students.
"It was a big learning experience for them. They had a lot to learn and a little bit of time to do that,"she said.
It was a great opportunity for students to go out and learn about what manufacturing actually is, according to David Lentz, Sullivan County School District's adviser.
"They got to go out and see manufacturing industry and get right in there. They learned about the industry … They also learned how to produce a video. It was the first time we've ever done that," he said.
He said he especially enjoyed the experience because two of the manufacturing employees the students interviewed were his former students.
"I think the students got the appreciation for the possibilities of manufacturing careers, and they got to see some older students who are currently employed in the industry," he said. "Plus, they learned how to produce a video."
The event was presented by the Williamsport/Lycoming Chamber of Commerce, WVIA, Pennsylvania Manufacturing Extension Partnership, Pennsylvania College of Technology and Lycoming College.
For more information, visit www.whatssocool.org/contests/central-pa/ to see the student videos.
original Article:
http://www.sungazette.com/news/top-news/2018/03/eye-on-manufacturing-students-win-awards-for-videos/