Preparing Transition Age youth with Autism for Employment and College
As part of the Teaching and Professional Development curriculum BLaST IU 17 provides, teachers and administrators were recently offered the opportunity to participate in a series of workshops geared toward assisting students with Autism Spectrum Disorder (ASD) in navigating life after high school.
"Preparing transition age youth with Autism Spectrum Disorders for College and employment can be challenging at times," said Jeffrey Pelly, Transition Consultant for BLaST and facilitator for the classes.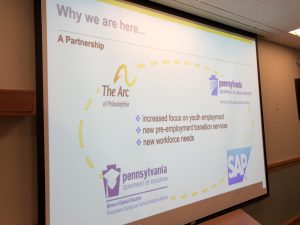 This workshop trained participants in the Arc of Philadelphia's "Neurodiversity in the Workplace" curriculum. This curriculum allows individuals with diverse neurological conditions to function at a high professional level with specialized training. The goal of the Arc of Philadelphia has been to shed light on the possibilities that workforce diversity can offer, not just to employers, but to their communities as well.
Registration was open to teachers and administrators who work with special needs students approaching the age of transition.
On March 15, 2019, BLaST IU 17 is partnering with Pennsylvania College of Technology to host its first annual Transition Conference on the Penn College campus at Klump Academic Center from 8:00-2:30.     This event is open to high school students with special needs and disabilities in 10th-12th grades, parents and community agency supporters.