"Improving Pennsylvania Through STEM"
As part of the PA Governor's STEM Competition, BLaST IU 17 partnered with Pennsylvania College of Technology to host its fifth annual regional competition on Tuesday, February 6, 2019 at Penn College for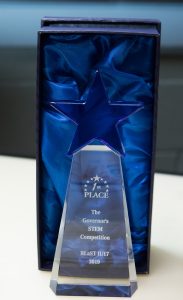 student teams in grades 9-12.  The competition was open to school districts throughout Bradford, Lycoming, Sullivan and Tioga counties and tested the skills of three teams this year including East Lycoming High School, Towanda Area High School and Williamsport Area High School.
This year's theme was "Improving Pennsylvania Through STEM."  Area teams selected a real-world problem, conducted research, designed, built, and presented a device that was capable of making the quality of life better for citizens of Pennsylvania. Each team was comprised of up to 5 members.   Throughout the challenge, students engaged with their local community to learn about STEM careers and the skills necessary to be employable and successful in STEM-related PA industries.
"Pennsylvania College of Technology was thrilled to partner with BLaST IU 17 and provide a regional site for the Governor's STEM Competition," said Randy J. Zangara, Dean of College Transitions and First Year Initiatives. "Being a national leader in applied technology programs, we appreciate the focus on getting students to see the importance of STEM in resolving problems impacting society. STEM-based education plays an important role in filling a number of current and future jobs, and we are excited that our local school districts see the value in having students explore all areas of STEM. Congratulations to all participants and the very creative ideas they presented! We look forward to hearing how they compete at the state level."
Williamsport Area High School focused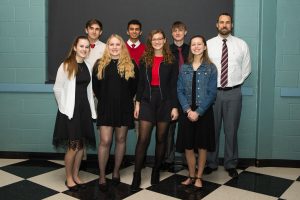 on an agricultural issue in Pennsylvania, that of repurposing organic industry waste into soil amendment to reduce the overuse of fertilizers and pesticides in farming. Their team, led by advisor Mr. Andrew Paulhamus, included: Michael Collyer, Katie Penman, Rosemary Flock, Oam Patel, Elaina Stone and Desiree Aversa. Their presentation of the Cup of Grow demonstrated a natural soil amendment using repurposed industry waste of used coffee grounds, spent tea leaves, brewery grain byproducts and sawdust.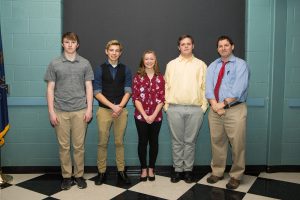 Towanda Area School District competed for the first time this year and presented the Backpack Rescue Device, a product aimed at aiding PA hunters and hikers who fall victim to injury while in our woodlands in getting to medical assistance.  Team members included: Coleman Butler, Hannah Ryck, Kaigan Stroop and John Schoonover, and Mr. John Sayre served as their advisor.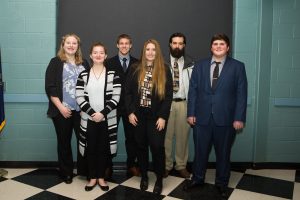 The Hughesville High School team from East Lycoming School District was comprised of Ashley Shaw, Jaid Stanton, Seth Stackhouse, Beau Draper, and Addalley Starr.  Their advisor was Mr. George Wood.  They presented on the e. coli problem in Pennsylvania and proposed a device designed to combat the serious issue facing our state.
Williamsport Area High School took first place in the regional competition and will move on to the final state event, the 2019 PA Governor's STEM Competition, scheduled to be held in May in Harrisburg.
Rob McKenzie, Instructional Technology Specialist for BLaST, offered his congratulations to all who participated. "This is an exciting event every year, and this year was no exception," Rob shared.  "The teams and their advisors should be very proud of the work they presented."
The judging panel included Jared Dressler from the Department of Environmental Protection, David Heffner representing Lycoming College and Robert Krepshaw from Pennsylvania College of Technology.