Hands-on activities made fun
BLaST Intermediate Unit 17 recently attended the 8th annual Science Festival on February 21st in the Field House at Pennsylvania College of Technology held by the College Transitions and First Year Initiatives Office.
Along with local businesses, organizations, and college-affiliated groups, BLaST provided a STEM activity table for the event which showcased the IUs Innovation Lending Library.  The Lending Library c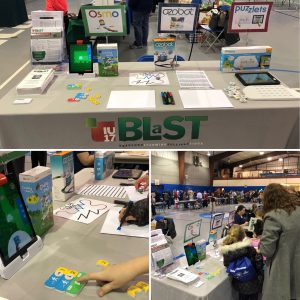 onsists of tools and kits of CS/STEM resources that can be borrowed and incorporated into classrooms currently.  These hands-on activities are an innovative way in which the IU has made CS/STEM equipment accessible to all teachers within BLaST IU 17 school districts.
More than 1500 local students and families explored the fun of science, technology, engineering and math (STEM) through a variety of stimulating hands-on demonstrations geared toward elementary and middle school students.
The local science festival is a satellite event for the USA Science & Engineering Festival, the nation's largest celebration of all things science and engineering.