Worth the Effort
Just about everyone can say they know someone impacted by heart disease.  As part of the American Heart Challenge, BLaST IU 17 employees participated in a Red Out and dress down day recently in support of the American Heart Association's efforts to prevent and reduce Cardiovascular Disease and Stroke.
"Over the past several years we have raised close to $2,000 between our t-shirt sales and donations," sh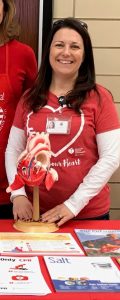 ared Carmen Terry, Lycoming County Insurance Consortium (LCIC) Health & Wellness Coordinator and Certified Health and Wellness Coach.  Carmen runs the LCIC wellness program which promotes healthy behaviors and preventative care for employees of the eight school districts in Lycoming County and Pennsylvania College of Technology.
According to the American Heart Association, cardiovascular disease accounts for 1 of every 3 deaths in the U.S.   About 2,300 Americans die of cardiovascular disease each day, an average of 1 death every 38 seconds. Heart disease accounts for 1 in 7 deaths in the US.
Warning signs:
Chest discomfort. Most heart attacks involve discomfort in the center of the chest that lasts more than a few minutes, or that goes away and comes back. It can feel like uncomfortable pressure, squeezing, fullness or pain.
Discomfort in other areas of the upper body. Symptoms can include pain or discomfort in one or both arms, the back, neck, jaw or stomach.
Shortness of breath with or without chest discomfort.
Other signs may include breaking out in a cold sweat, nausea or lightheadedness.
BLaST employees were invited to dress down and wear jeans in exchange for a direct donation to the AHA or by purchasing a t-shirt that read "Worth the Effort".   They took part in a lunch-n-learn presentation on Stress Management offered by Carmen Terry and made a commitment to take charge of their own heart.
The day's event raised $200 that will be sent to the American Heart Association.