Angela Sees, Early Intervention Supervisor with BLaST Intermediate Unit 17, has been appointed to serve as one of 57 members on the Pennsylvania Early Learning Council. Sees is the Intermediate Unit representative on the Early Learning Council (ELC).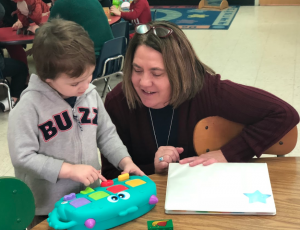 The purpose of the Pennsylvania Early Learning Council is to plan for the expansion of effective early learning and development services for young children and their families, and make recommendations to ensure the plans are implemented successfully. The Council will be responsible for coordinating the delivery of these Federal and Commonwealth programs designed to serve young children from birth through their entry into school, and to ensure a smooth transition for those children into K-12 education and other programs serving older children.
"This is an exciting time to be a part of the Early Learning Council. Pennsylvania's work in early learning continues moving forward to better serve families with young children, and I am excited to serve on the Council to help further that goal," shared Sees.
Sees was sworn in and began her three-year term in February.
The Council will meet three times a year and will hold public hearings and provide opportunities for public comment.
For more information on the work being done by the ELC, visit https://www.governor.pa.gov/topic/schools-that-teach/