The ELECT Program welcomed representatives from Pennsylvania Department of Education (PDE), Pennsylvania Department of Human Services (DHS), and Center for Schools and Communities (CSC) for our yearly Monitoring Visit on Thursday, March 7th.  The visit kicked off with introductions between the monitoring team which included PDE's new ELECT Program Officer, Lisa Lockwood, Nichole Fischer of CSC, Morgan Williams-Fake of DHS and members of the IU's leadership team including Dr. Steinbacher-Reed and Ms. Brooke Beiter, as well as ELECT Program staff Lynn Frey, Amanda Bremigen, Jessica Knight, and Lori Hutchinson.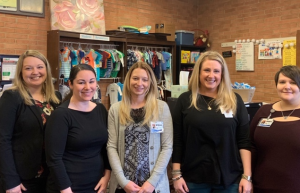 We are happy to report that the monitoring visit went exceptionally well and the IU's ELECT Program was praised for their continued support of pregnant and parenting students.  With a new Program Officer there will be many exciting changes coming and PDE indicated that many of those changes are already being reflected in the case management, data collection, and student programming work within our ELECT Program.  We will receive an official review of the visit later in the spring.
Starting on Tuesday, March 19th the ELECT Program will begin our Evening Education Series.  This is an opportunity for program participants to come together from all of the different school districts and participate in educational events.  The topics for these events were driven by student interest questionnaires that were completed at the beginning of the school year by program participants.   Outlined below are the dates, topics, and presenters for each of the sessions.
Tuesday, March 19th– Welcome and Introduction to Evening Education Series
Tuesday, March 26th – Session 1: Sleep Habits, Depression, and Anxiety, presented by Lynn Frey
Tuesday, April 9th– Session 2: Court, Custody, Support, Visitation, etc. presented by Judge Joy McCoy
Tuesday, April 16th – Session 3: Head Start Opportunities, presented by Melissa  Edmonds of STEP, Inc.
Tuesday, April 23rd– Session 4: Secondary Pregnancy Prevention, presented by Julie Entz R.N. of the Department of Health
Last year's series was a huge success in terms of student participation and engagement.  We are looking forward to an equally successful series this year.