High School students with Special Needs in Bradford and Lycoming Counties recently had the opportunity to gain valuable work skills by participating in job mentoring days in our region.  BLaST IU17 partnered with the Bradford County and Lycoming County Transition Councils to bring these opportunities to high school students with disabilities, allowing them to job shadow at positions with local businesses in areas of industry that are of interest to them.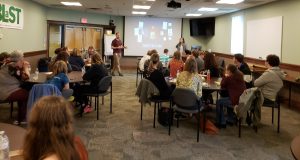 Work With Me Day was held for students residing in Bradford County on Thursday, April 25th.  Over 40 students from Athens, Canton, Northeast Bradford, Towanda, Troy, and Sayre School Districts were part of the event.  Twenty-four businesses graciously allowed students to observe the inner workings of day to day operations.  The Athens and Troy Police Departments, Mt. Pisgah State Park, Kristi's Salon, Bradford County Manor, Metal Fusion, Animal Care Sanctuary, Greater Valley EMS, and more all helped to make Work With Me Day a success.
When the students were finished with their job experiences, they gathered at the Troy Vets Club for a luncheon and presentation from Penn York Opportunities on the importance of self advocacy, and information on putting together a resume as well as ideas for what employers are looking for in potential work candidates.  Students also had the chance to share out about their job experiences with peers from neighboring school districts, thus contributing to their interpersonal and social skills.
EmployAbility Day was held the next day, on Friday, April 26th, for students in Lycoming County.  Over 20 students from East Lycoming, Loyalsock, Montgomery, Montoursville, and South Williamsport School Districts took part in this event with support from 10 local businesses.  Penn College, IU17, the SPCA, Baxter Plumbing and Heating, Loyalsock Township School District, Bostley's and others were all on hand to provide beneficial placements to the students who continued to learn job readiness skills in supportive environments.
Upon completion of their morning experiences, the students gathered at BLaST IU17 in Williamsport for lunch and a guest speaker from the PA CareerLink who educated them on soft skills, resume writing, and the services their organization offers.  Students also had a chance to network with one another and explore STEM related activities from IU17's Lending Library.
Both Work With Me Day and EmployAbility Day are modeled after the National Disability Mentoring Day that began in Washington D.C. during the late 90's to promote opportunities for employing students with disabilities.  Pennsylvania seized the opportunity to sponsor its own Disability Mentoring Day in 2002 and BLaST IU17 as well as the Bradford and Lycoming County Transition Councils continue to do the same for students in our region.