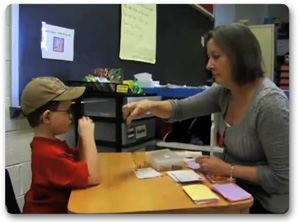 As part of the collaborative Inclusive Practices project, a digital video case library of "best practices" has been developed to illustrate how teachers in actual classroom settings are planning and implementing curriculum, instructional techniques and materials, and assessment strategies to provide access to the general education program for students with disabilties.
The sections include videos (with optional closed-captioned viewing capability) of teachers incorporating research-based practices that have proven to enhance the learning and achievement of students with disabilities in general education classrooms.
We are also incorporating videos and presentations of featured schools and school districts who "welcome all students", including those with disabilities.
The structure and content of these videos are designed to complement several professional development modules , so that these resources can be utilized for customized professional development workshops, classes, and in service programs for schools, school districts, intermediate units, and colleges and universities.
Best Practices Video Library
Anita Archer: Strategies & Engagement Videos
Disabilities Awareness Program
Transition Programs and Services