Work-based Learning Program for Students with Disabilities
 [br] Mission Statement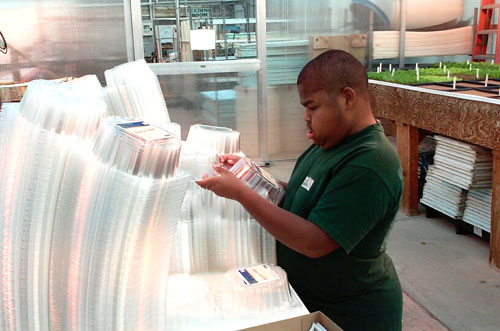 The BLaST IU 17 EXPLORE program has a misson to provide students with disabilities a variety of rich volunteer experiences to help them develop into independent, well-skilled employees.
The EXPLORE program has a continued commitment to developing long-lasting partnerships with local businesses to provide powerful experiences for our students. The EXPLORE program aims to constantly develop our program to meet the diverse needs of the students and businesses we serve.
Program Objectives
To assist students with disabilities in acquiring valuable employment skills
To develop long-standing win-win relationships with local businesses
To provide a variety of volunteer experiences for our students from which to learn and grow
To provide as much support as needed for each student's individual needs, while always looking forward to the goal of independence.
To provide students with disabilities an edge in obtaining employment upon graduation.
Responsibilities and Benefits of the Work-based Learning Experience Program
Explore Coordinator Responsibilities
Assess student ability and interests
Match students with appropriate jobs
Provide job support to employers and students
Employer Responsibilities
Comply with Child Labor Laws
Set up a mentoring program
Contact job coach regarding student related problems/ concerns/issues
Notify and hold a conference with job coach, student and employer prior to dismissing a student from the position
Student Responsibilities
Maintain good school and work attendance
Follow the work schedule
Maintain good work ethics
Report off of work when unable to attend
Maintain appropriate dress and hygiene
Employer Benefits
The opportunity to help train highly motivated future employees
Participation in an exciting community project
A job coach to assist with student's job training (when needed)
Trained, loyal, dedicated employees
Community Benefits
Citizens that will give back to the community
Greater return of school tax dollars
Increased supply of trained individuals to enter the work force
Student Benefits
The opportunity for on-the-job training in a local business
Actual work experience prior to graduation
Gratification for volunteering their services to help others
 [br] EXPLORE Program Team
Tim Hanner -Â Supervisor
tanner@iu17.org
Krista Wise -Â EXPLORE Program Coordinator
kwise@iu17.org
The Collaborative Effort
The duty of the job coaches is to expose the special to a variety of social and work environments and situations in order to assist them in learning basic skills. Given these opportunities the students have the chance to take part in and become productive members in their community.
Job Coaches
Barb Ruch
bruch@iu17.org
Robert Russell
russell@iu17.org
Corinne Paulhamus
cpaulhamus@iu17.org
Karen Sangal
ksangal@iu17.org
Connie Cox
ccox@iu17.org
Sherry Vargson
svargson@iu17.org