Every

 

Student

 

Future Ready
Empower students to build and customize their very own roadmap for academic, career and future success.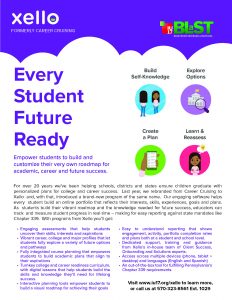 For over 20 years we've been helping schools, districts and states ensure children graduate with personalized plans for college and career success. Last year, we rebranded from Career Cruising to Xello and, with that, introduced a brand-new program of the same name. Our engaging software helps every student build an online portfolio that reflects their interests, skills, experiences, goals and plans. As students build their vibrant roadmap and the knowledge needed for future success, educators can track and measure student progress in real-time — making for easy reporting against state mandates like Chapter 339. 
BLaST IU17 has worked through Xello to offer your district an exclusive discounted rate, so act now to lock in your schools for the upcoming academic year. Please fill out the following form to receive a customized quote from our consortium specialist. Once you have completed the form and hit submit, you will receive an email confirmation and then a follow-up email in 1-2 business days with details and pricing.