On Feb. 6, the Williamsport Area High School STEM team competed in the 2018 Governor's Regional STEM Competition hosted by Penn College. Here they presented their invention called the SafeCar.
http://www.sungazette.com/news/education/2018/02/stem-teams-safecar-wins-first-place-in-competition/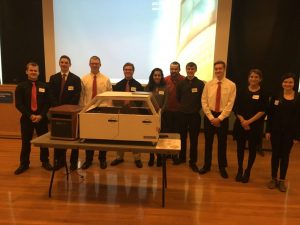 The SafeCar is a prototype vehicle the students constructed out of plywood and then painted to look like a real car. The concept of the car is to equip it with sensors to help protect children and pets from being trapped in vehicles. The temperature, pressure and infrared motion sensors are able to detect if someone is in the car. The purpose of this detection system is to be able to alert parents or pet owners if their child or pet has been left in the unsafe conditions of a hot car.
"We were definitely inspired by the all too common tragedies that you hear about in the news in relation to this issue," explained Nina Schapell. The sensors have set conditions. If motion, sound and a temperature of greater than 95 degrees Fahrenheit is detected in the vehicle, the alert is triggered. When the sensors detect the unsafe conditions, an alert is sent to the owner's cell phone via text message. The alert received by the owner will say, "We've detected high temperature, an occupant and motion in your car. Did you forget someone?" This alert is paired with the license plate of the vehicle it is being sent from so the owner knows to which car, if they own multiple, the alert pertains.
In a real-life situation, if the first alert does not result in immediate action, a second alert is sent out to the local police department along with the location of the vehicle so that a rescue team can assist. In addition to presenting their SafeCar, the team had to participate in an on-site invention task. They were given a box of materials and had to create a PowerPoint paired with a research paper with the evidence of their reasoning for their invention. "We decided to create a car that can move horizontally without human intervention," explained Caleb Hunter. After showing excellence in all categories, the judges awarded Williamsport the first place trophy. With this win, the team advances to the state competition in Lancaster in May.
This page was created by Billtown Banner students at Williamsport Area High School