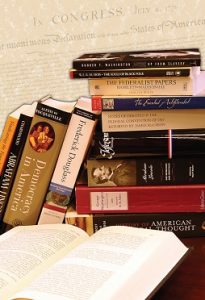 In June 2010, BLaST IU 17 was awarded a three year grant to promote the professional development of teachers of American History and related Social Studies subjects within the IU 17 service area. The Teaching American History (TAH) Grant Program was designed and implemented with the goal of raising student achievement by: (1) improving teachers' knowledge and understanding of  traditional U.S. History and related subjects, and (2) providing teachers with a vast repertoire of Social Studies instructional strategies.
Over the course of the three year grant period, over 50 teachers from 17 school district engaged in a comprehensive program that consisted of professional development colloquia, design of detailed standards-based lesson/unit plans and student projects, participation in field studies to historic sites, and involvement in book studies on American History content and instructional strategies.
On this website (and other linked sections), we have archived all of the resources developed during the TAH grant so that participating teachers and their colleagues will have continuing access to a unique professional library. The resources are organized as follows:
Professional Development Sessions. These consist of presentations and instructional strategies documents related to specific American History topics. The presentations were facilitated by university professors and American History subject matter specialists.
Lesson/Unit Plans. These are detailed standards-based plans with supporting documents and resources developed by participating teachers from BLaST IU 17 school districts.
Teacher/Student Projects (Years 2 and 3). These are sample projects that can be used to help students investigate specific Social Studies topics.
Field Studies. In this section are itineraries and photographs from important historical locations that teachers visited during the specific grant year.
Book Studies (Years 2 and 3). In this section are chapter presentations and book reviews of both content and instructional strategies books that were read and reviewed by teachers participating in the TAH grant. These resources are housed in a Moodle course established for this purpose.
Year 1 TAH Grant Resources: First Interactions with Native Americans to the War of 1812
Professional Development Sessions
Field Study (Philadelphia, Brandywine Battlefield, Valley Forge)
Year 2 TAH Grant Resources: The Early Republic to the Industrial Revolution and the Gilded Age
Professional Development Sessions
Field Study (Baltimore, Harper's Ferry, Antietam Battlefield, Hampton Plantation)
Year 3 TAH Grant Resources: The Spanish-American War to the "War on Terror" and the "Great Recession"

Professional Development Sessions
Field Study (New York City, FDR Home and Library, Val-Kill)
If you need additional information, please contact:
Lawrence Potash
Educational Consultant/Project Coordinator
BLaST IU 17
2400 Reach Road
Williamsport, PA 17701
lpotash@iu17.org
570-939-0450