Welcome to the BLaST IU 17 Regional PA Media and Design Competition website! The PA Media and Design Competition is an annual event that highlights Pennsylvania students' application skills and computer knowledge. Students are able to unleash their creativity, learn how to convey information more dynamically, and enhance the learning process.
STATE High School Logo
Logo winner: Kalina Pechart, Abby Walter, and Destiney Wynn – Line Mountain High School

STATE Middle School Logo
Logo winner: Michael Chan – Arcola Intermediate School
— Virtual Competition for 2021 —
In accordance with state mandates, the PA Media and Design competition for 2021 will be virtual. This will still allow students an opportunity for recognition and feedback on their hard work and select the projects that can qualify for the state competition.
Student Registration begins December 1, 2020
Please visit the state website for details on projects, categories, rubrics, and rules for the competition at www.mediadesigncompetition.org
If any students are unable to upload their project for viewing, please email Renee Peluso at rpeluso@iu17.org to make alternative arrangements on how to make your project and documentation available.
Advertise in Your Schools!
Click the posters below to download full size 11″x17″ PDF
BLaST IU17 2020 Regional Award Winners
High School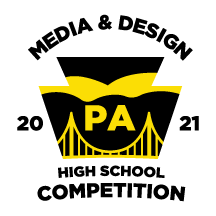 Logo & Graphic Design
1st Place – Project 2488
Wyatt Poorman
Williamsport Area School District
Logo & Graphic Design
2nd Place – Project 2489
Katelyn Scharler
Williamsport Area School District
Digital Movie
1st Place – Project 2491
Dylan Ring
Montgomery Area School District

Middle School
Programming
Honorable Mention – Project 1510
Jesse Castle
Southern Tioga School District
---
2019 Event Highlights
See our gallery of the 2019 Regional Projects
See our gallery of 2019 Regional Winners
See our gallery of photos from around the computer fair
2018 Event Highlights
See our gallery of the 2018 Regional Projects
See our gallery of 2018 Regional Winners
See our gallery of Elementary Participation