Welcome to the BLaST IU 17 Regional PA Media and Design Competition website! The PA Media and Design Competition is an annual event that highlights Pennsylvania students' application skills and computer knowledge. Students are able to unleash their creativity, learn how to convey information more dynamically, and enhance the learning process.
BLaST IU17 2020 Regional Award Winners
High School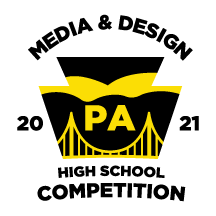 Logo & Graphic Design
1st Place – Project 2488
Wyatt Poorman
Williamsport Area School District
Logo & Graphic Design
2nd Place – Project 2489
Katelyn Scharler
Williamsport Area School District
Digital Movie
1st Place – Project 2491
Dylan Ring
Montgomery Area School District

Middle School
Programming
Honorable Mention – Project 1510
Jesse Castle
Southern Tioga School District
— Coronavirus Update for 2020 —
In light of the current quarantine and the unknown length of time that social distancing measures will remain in place, our regional Media and Design Competition Committee has been working on creating a virtual competition to allow students to upload their projects for judging.
I can assure you that our IU team is just as disappointed as the participants.  We recognize that a virtual competition is not ideal, but under the current circumstances, it is our best available option to give students an opportunity for recognition and feedback on their hard work and select the projects that can qualify for the state competition.
We have extended the registration through April 24th!  We will then create a shared Google drive folder based on each Project ID.  Each student will then receive a link to their folder and they will have until April 26th at 4pm to upload the electronic versions of their projects and documentation.
The final project, narrative description, and storyboard planning document are required to be uploaded.  Students may submit photos, links to websites, or video clips (under 30 seconds in length) for showcasing their display board and any physical products demonstrating their work.  This would include photos of the physical 3D printed design or promotional object with the logo on it.  If needed they will need to create and upload a document containing any specific instructions our judges will need to access and run the project and the best time to call if they have any questions.
If any students are unable to upload their project for viewing, please email Chris Johnson at chrisjohnson@iu17.org to make alternative arrangements on how to make your project and documentation available.
Projects will be judged from April 27th to May 1st with award announcements made on Tuesday, May 5th at 2pm.
We understand that not everyone will be able to complete their projects from home and this is definitely not how we had envisioned our competition unfolding this year. The important thing is that everyone remains safe and healthy. We will do our best to work through this year and look forward to an even greater event for 2021!
To register projects, visit the state website for details on projects, categories, rubrics, and rules for the competition at www.mediadesigncompetition.org
Advertise in your schools!
Click on an image above to download a 11″ x 17″ pdf poster
2019 Event Highlights
See our gallery of the 2019 Regional Projects
See our gallery of 2019 Regional Winners
See our gallery of photos from around the computer fair
2018 Event Highlights
See our gallery of the 2018 Regional Projects
See our gallery of 2018 Regional Winners
See our gallery of Elementary Participation