Partial Hospitalization Program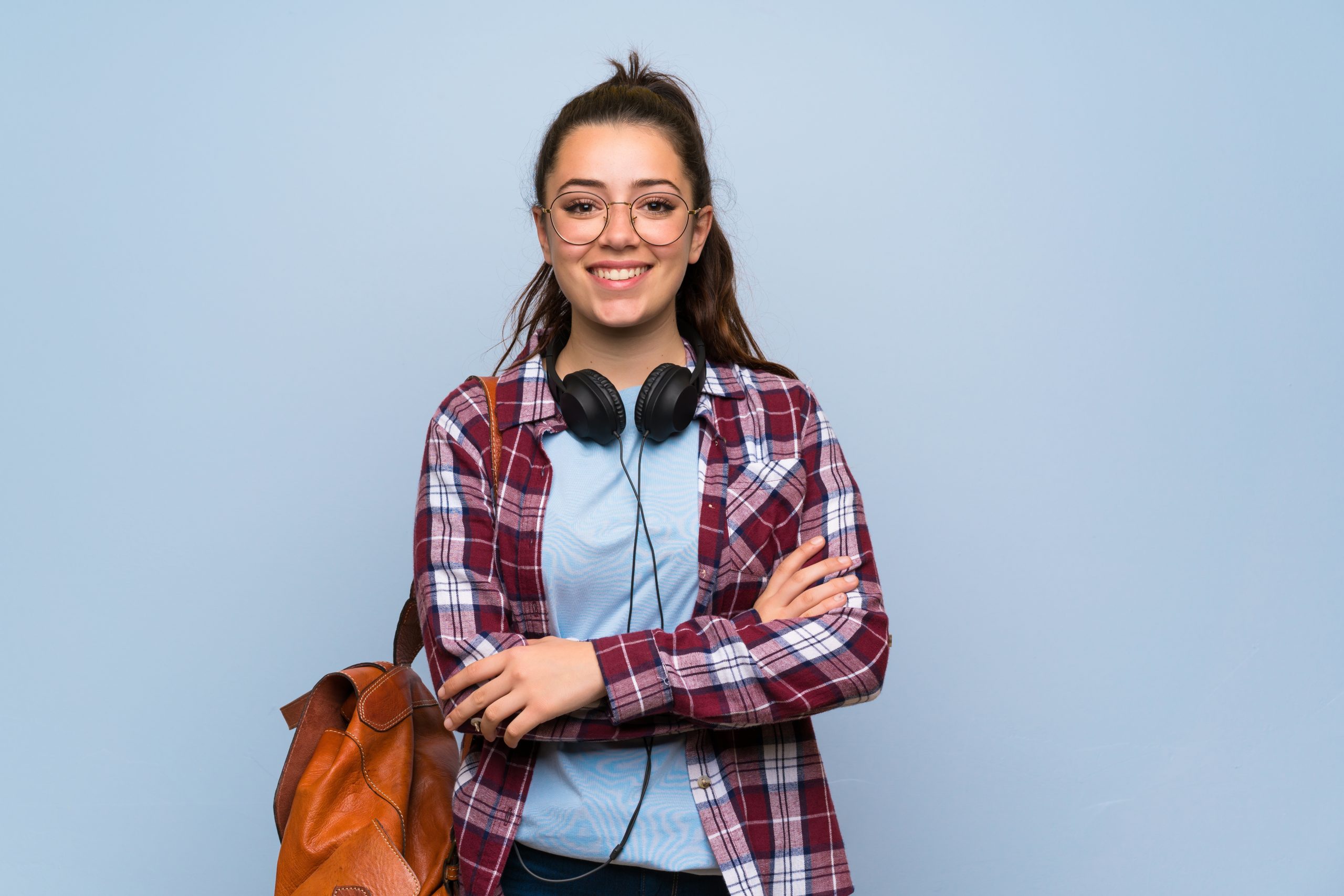 The BLaST Intermediate Unit 17 Partial Hospitalization Program (PHP) is a center-based program that operates a minimum of six hours a day, with three hours of education and three hours of mental health treatment, Monday through Friday, following an academic calendar. Each IU 17 Partial Hospitalization Program is under the care of a psychiatrist and is staffed by treatment team leaders and mental health technicians. The BLaST IU 17 Partial Hospitalization Program is intended to be a step up from lower levels of care that were not successful in addressing a need, or as a step down from a psychiatric inpatient or residential level of care, to aid in transitioning back to the district setting.
The BLaST IU 17 Partial Hospitalization Program services regular and special education students in grades K-12 through Bradford, Lycoming, Sullivan, Tioga, and surrounding counties. The Partial Hospitalization Program is located in Lycoming County at the South Academy of Integrated Studies, and Bradford County at the North Academy of Integrated Studies. Both locations service a total of 60 students enrolled in a K-12 setting.
Who is eligible?
Children and adolescents eligible for the BLaST IU 17 Partial Hospitalization Program are those with acute or chronic mental health concerns experiencing current behavioral or emotional needs that impede their day-to-day functioning at school, home, and/or the community. Eligible clients will need to complete a psychiatric evaluation to determine medical necessity for the Partial Hospitalization Services and engage in coordination with the educational system through the referral process.
What types of services are offered?
The BLaST IU 17 Partial Hospitalization Program offers the following services:
Therapeutic Recreation/Milieu
Psychiatric Evaluations
Psychiatric Consultation
Medication Management
Individual Therapy
Family Counseling
Behavior Management and Programming
Case Management
Implementation of Individual Education Programming (IEP and 504 plans)
Transition Services.
In addition, the PHP utilizes the Cognitive Behavioral Therapy model (CBT) as its core approach. CBT is action-oriented, practical, and rational as it helps individuals gain competencies to effectively cope with real-life solutions.
Group therapy at the PHP focuses on a variety of concepts including peer support, emotional awareness, stress management, improving self-esteem, anger tolerance, relationship building, etc., individualized to the dynamics of the group. Program staff use an assortment of resources, including the Brainwise Curriculum, to provide quality therapeutic opportunities aimed at establishing healthy coping strategies.
Summer programming is offered to eligible clients to help maintain consistency during the summer months, and aid in transitioning back to the academic school year based on individualized client needs.
How are services funded?
Treatment Costs:
Medical Assistance
Commercial Insurance
Private Pay
Education Costs:
Who can make a referral?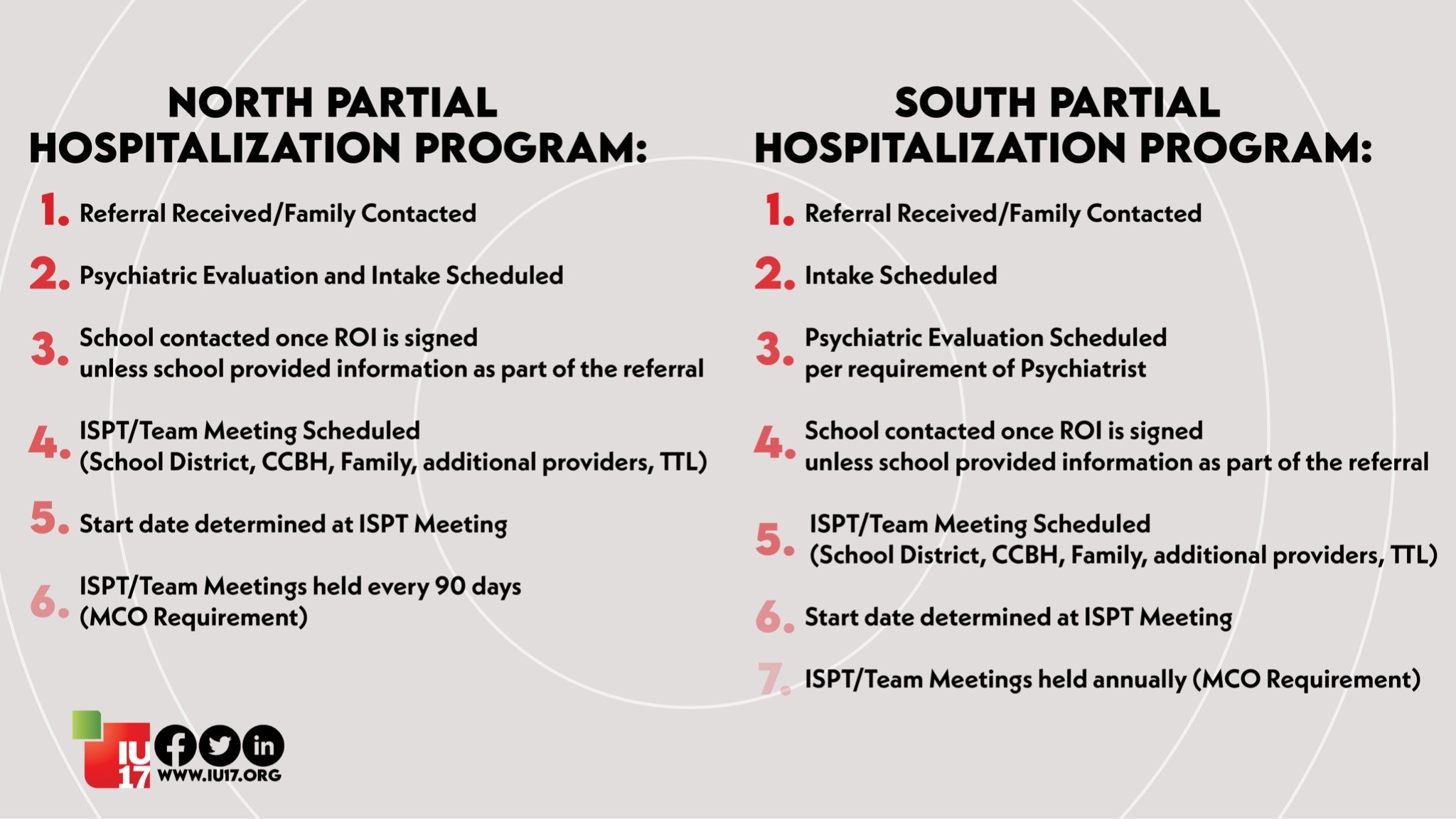 Clients can be referred directly by the parent/guardian by submitting a referral form below.
Additionally, clients can be referred by the below community supports:
Current Mental Health Provider
School District
Juvenile Probation/Children and Youth Worker
Inpatient Hospitalization Facility
Residential Facility Placement
Case Management
CASSP
Director of Mental and Behavioral Health
Mental and Behavioral Health
Cell Phone
:
570-359-7621
cell
Work Phone
:
570-323-8561 x1012
work
Work Email

:

nkl e e s@ i u17 .o r g

INTERNET
Treatment Team Leader – North
Mental and Behavioral Health
Work Phone
:
570-265-0171 ext. 3016
work
Work Email

:

as e e le y @iu1 7 .o r g

INTERNET
Treatment Team Leader – South
Mental and Behavioral Health
Work Phone
:
570-980-1778 x1305
work
Work Email

:

mbr i ck l e y @ iu17 . o r g

INTERNET