May 16, 2019
Brett R. Crossley
Rowan Pryor looked like he was about to enter a futuristic video game as his friends and classmates sat behind and yelled their guesses as to what he was drawing on the screen directly in front of him.
Pryor, a student in Montoursville's school district, was drawing a statue for the group behind him, but had to remain silent as he scribbled across the screen while strapped into a virtual reality headset.
"It was a lot of fun up there," Pryor said. "It was funny, because everyone was guessing a human and it was a statue."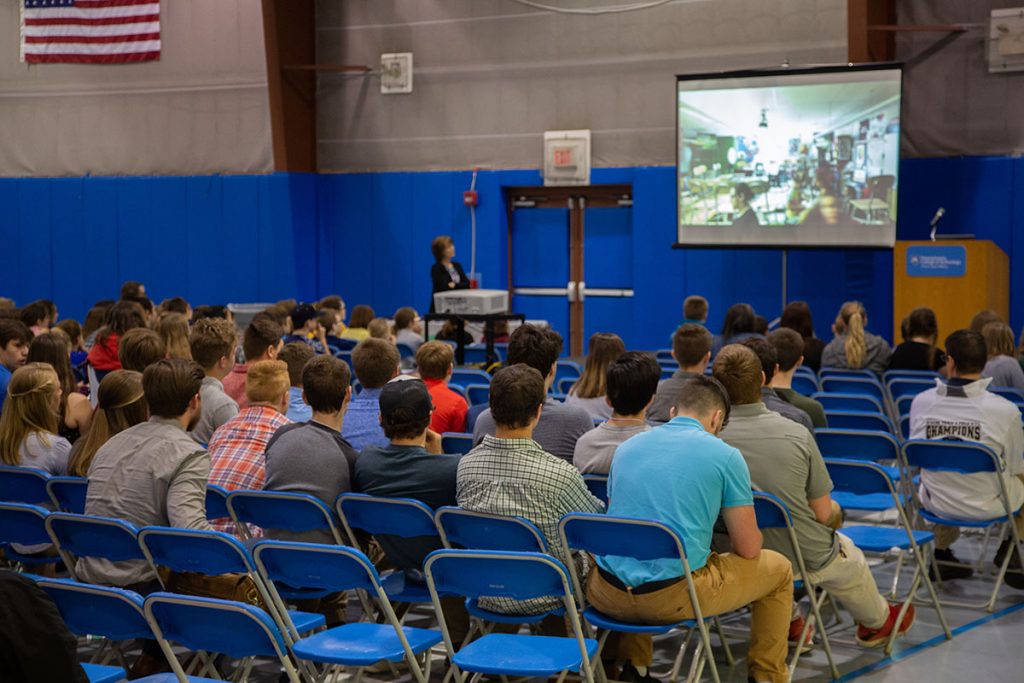 That just a little portion of the 17th annual Regional Media and Design competition (formerly known as Computer Fair) hosted by BLaST IU17 at Pennsylvania College of Technology. The competition featured new categories like 3D Design. Randy Zangara, dean of transitions and first year initiative said that "at Penn College we continue to value our partnership with BLaST IU17 and the collaborative efforts to encourage students to be creative with technology at both these competitions and our college."
Pryor and his experience were one of many attractions for kids in attendance.
"This is a brand new year with new categories," director of technology, Jon Paulhamus, said. "The state competition wanted to be a little more innovative with what they are offering the kids this year."
The students' across IU17's four counties (Bradford, Lycoming, Sullivan and Tioga) participated in were 3D design (the competitions' newest category), animation, digital movie, logo and graphic design, programming and web page design. The winner of the state logo and graphic design competition even gets to design next year's logo for the event.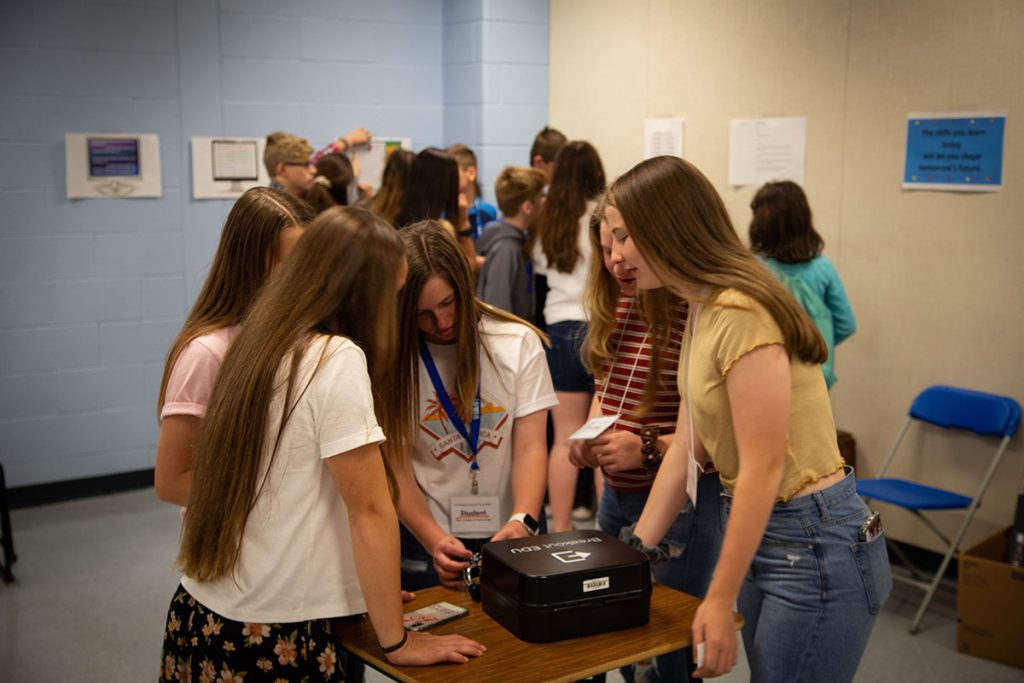 The competition was open to any student enrolled in grades K through 12 along with attending a public or private school that resides in either of the four surrounding counties that BLaST services. The first-place winners of the regional competition then go on to compete at the state level which will be held at Dickinson College on Tuesday.
"The first-place winner in that category at the state competition is actually then the logo they will use to promote this competition across the state next year,"workforce development specialist at IU17, Audra Mazzante said. "That's a big one for students, because they will be recognized throughout the year."
One of those entries came from Pryor's group out of Montoursville as Elise Beishline entered the logo and graphic design contest.
She spent 10 hours and 37 minutes on her project as she timed each an every step along the way. She created a logo that featured technology and nature.
"As soon as I heard about the project I knew I wanted to tie in Pennsylvania nature and computers," Beishline said. "Those are two things I really love about Pennsylvania and there also really big opposites. I thought it would be a really good challenge."
Beishline presented her project, but she also featured an iPad with a time lapse movie detailing every step of her logo's design. It started with a rough outline and Beishline then layered the drawings. It was mix of technology and nature that featured a circuit board ground, trees and ones and zeros that represented binary as the outline in the sky.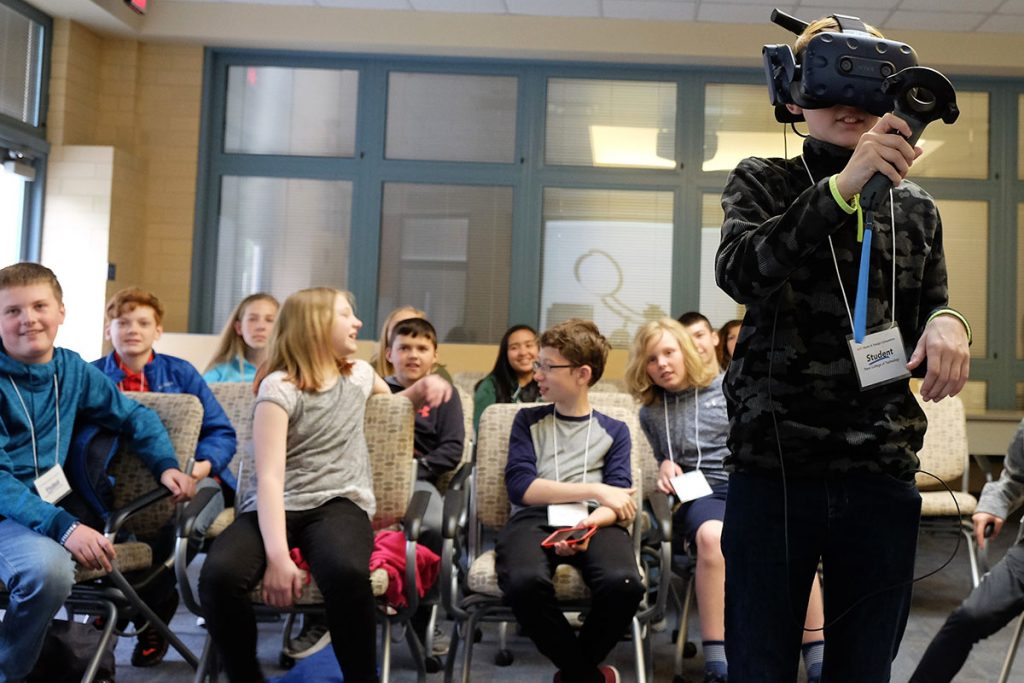 Beishline then used the rest of her board to breakdown the steps and showed how her display worked on water bottles, business cards and many other objects to advertise the competition.
"In all it took 10 hours and 37 minutes to make," Beishline said. "Really good logos take a long time to make. When you make a rough sketch it looks good, but once you do an outline it looks cleaner, because it doesn't have all the details of the work."
Ian Long represented Wellsboro in the competition and designed his own logo to compete against Beishline and field.
"I started out with the idea of just a laptop," Long said. "I wanted to include as many Pennsylvania and technology themed designs as I could."
Beishline even included their school's colors in the design that featured a laptop shaped like Pennsylvania with the PA Media and Design logo in the center of the screen.
"There were a lot of different things that went into it," Long said. "The entire design took me 32 hours to make. I had a lot of issues with the program I used. When I tried to move it around it would move some of the logo and not all of it. It was program issues, but I was able to work it out."
The kids put hours and hours of work into the projects with the hopes of being that final one pulled for the State competition later in the month.
"They get to learn team work and instructional strategies," Mazzante said. "They have very strict rubrics that the state designs for them. They get to learn how to follow those instructions and how to be creative within the category they are entering into. Those are big things that the students will gain."
As judging took place, students had a chance to explore other projects and break-out session offerings from IU17, Penn College and Troy Area School Districts' technology students that ranged from animation, video game development and graphic design. Some of the participants entries also were on display.
Pryor got to enjoy the VR room with his fellow competitors, but there were a handful of activities for everyone involved. Eric Karschner and his teacher John Martin, of Hughesville, took on the challenges of an escape room. Teams of students and teachers worked to get out of the room as the judging for the morning entries took place. Judges came from many different organizations including Little League International, M&T Bank, Lamar Advertising, Community Arts Center, Dell Technologies and the regional district's technology coordinators.
The entire day challenged everyone involved as the competitors were given access to technology and activities. It was an outstanding day for everyone involved.
http://www.sungazette.com/news/education/2019/05/blast-iu17-holds-17th-annual-competition/